2018 Vol. 31, No. 8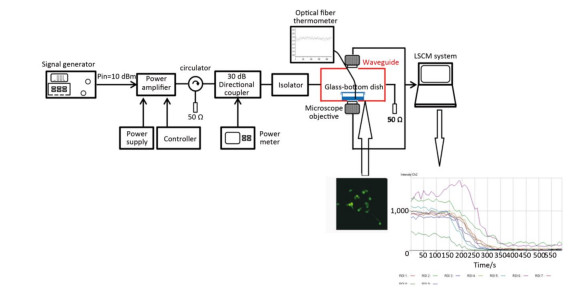 Objective To detect the effects of microwave on calcium levels in primary hippocampal neurons and primary cardiomyocytes by the real-time microwave exposure combined with laser scanning confocal microscopy. Methods The primary hippocampal neurons and primary cardiomyocytes were cultured and labeled with probes, including Fluo-4 AM, Mag-Fluo-AM, and Rhod-2, to reflect the levels of whole calcium[Ca2+], endoplasmic reticulum calcium[Ca2+]ER, andmitochondrial calcium[Ca2+]MIT, respectively. Then, the cells were exposed to a pulsed microwave of 2.856 GHz with specific absorption rate (SAR) values of 0, 4, and 40 W/kg for 6 min to observe the changes in calcium levels. Results The results showed that the 4 and 40 W/kg microwave radiation caused a significant decrease in the levels of[Ca2+], [Ca2+]ER, and[Ca2+]MIT in primary hippocampal neurons. In the primary cardiomyocytes, only the 40 W/kg microwave radiation caused the decrease in the levels of[Ca2+], [Ca2+]ER, and[Ca2+]MIT. Primary hippocampal neurons were more sensitive to microwave exposure than primary cardiomyocytes. The mitochondria were more sensitive to microwave exposure than the endoplasmic reticulum. Conclusion The calcium efflux was occurred during microwave exposure in primary hippocampal neurons and primary cardiomyocytes. Additionally, neurons and mitochondria were sensitive cells and organelle respectively.
Objective To validate the performance of Mycob. T Stainer and Scanner (MTSS) for detecting acid-fast bacilli (AFB). Methods A total of 3, 816 sputum samples from 1, 515 tuberculosis (TB) suspects were tested at the Anhui Provincial Chest Hospital and the Linyi People's Hospital from April-August, 2016. Each specimen was placed on two smear slides. One slide was stained by the ziehl-neelsen (ZN) method to be read by conventional microscopy (CM). The other slide was stained and scanned by MTSS. All specimens were decontaminated with 4% NaOH, and then inoculated into solid culture. The performance of MTSS was assessed. Results MTSS produced higher average positivity rate (27.96%) as compared with the CM (26.83%). The overall sensitivity and specificity of MTSS were 78.9% and 93.9%, respectively. The sensitivity and specificity of CM was 77.4% and 95.0%, respectively. Conclusion MTSS exhibited a favorable performance in the detection of AFB. It may be an alternative to CM for screening TB.
Objective To investigate genetic and antibiotic resistance characteristics of Campylobacter jejuni (C. jejuni) isolated from Shenzhen. Methods Multilocs sequence typing and agar dilution methods were used to define the genotype and antibiotic resistance of C. jejuni, respectively. Results In total, 126 C. jejuni strains were isolated. The prevalence of C. jejuni was 5.3% in diarrheal patients. The prevalence in poultry meat (36.5%) was higher than that in cattle meat (1.1%). However, the prevalence in poultry cloacal swabs (27.0%) was lower than that in cattle stool (57.3%). Sixty-two sequence types were obtained, among which 27 of the STs and 10 alleles were previously unreported. The most frequently observed clonal complexes were ST-21 (11.9%), ST-22 (10.3%), and ST-403 (7.1%). ST-21, ST-45, ST-354, ST-403, and ST-443 complexes overlapped between isolates from patients and cattle, whereas ST-45 and ST-574 complexes overlapped between isolates from patients and poultry. All C. jejuni were resistant to at least one antibiotic. The highest resistance rate was toward ciprofloxacin (89.7%), followed by tetracycline (74.6%), and nalidixic acid (69.0%). Conclusion This is the first report of the genotypes and antibiotic resistance of C. jejuni in Shenzhen. Overlapping clonal complexes were found between isolates from patients and cattle, and between patients and poultry.
Objective The purpose of this study was to screen for frequencies of different CYP450 genotypes in the Chinese population and explore the relationship between sorafenib toxicity and CYP450 polymorphism. Methods A total of 600 peripheral blood samples were obtained from two groups for this study. The first group of 300 samples were from Chinese patients with HBV/HCV-associated HCC, while the remaining 300 samples were from a healthy population of recruited subjects. Allele-specific PCR and long-fragment gene sequencing was used to identify the frequencies of CYP450 polymorphism. Aflatoxin-induced HCC rat models expressing CYP3A4*1, CYP3A5*3, CYP2C19*2, and CYP2D6*10 were established and treated with sorafenib at certain time points. Hepatic and renal function, along with plasma concentration of sorafenib, were monitored regularly. Results The most common forms of CYP mutations in the Chinese population were identified. The levels of sorafenib plasma concentration, as well as damage to hepatic and renal function in aflatoxin-induced HCC rat models varied significantly across the different CYP genotypes. Conclusion The mutational frequencies of CYP3A5, CYP3A4, CYP2C19, and CYP2D6 genotypes varied among different ethnic groups and populations. Individuals with CYP3A5*3 demonstrated minimal sorafenib metabolism, which led to severe hepatic and renal damage. Inter-individual variability in sorafenib-toxicity may be interpreted by CYP450 genetic polymorphisms, suggesting that identification of CYP polymorphism within a certain population should be considered in sorafenib therapy.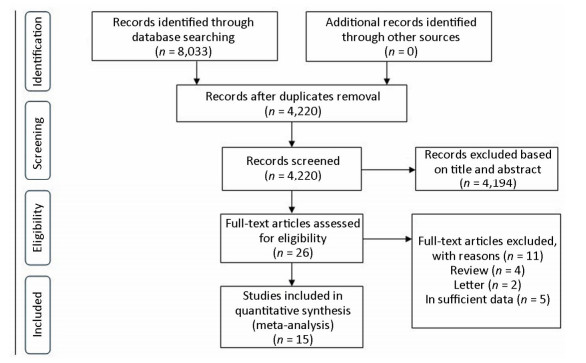 Objective A new technique of transthoracic lung ultrasonography (TLS) has emerged and demonstrated promising results in acute heart failure diagnosis at an early stage. However, the diagnostic value of ultrasound lung comets (ULCs) for acute heart failure (AHF) performed in busy emergency department (ED) is uncertain. The present meta-analysis aimed to assess the diagnostic efficiency of ULCs in AHF. Methods We conducted a search on online journal databases to collect the data on TLS performed for diagnosing AHF published up to the end of July 2017. The sensitivity, specificity, positive likelihood ratio (PLR), negative likelihood ratio (NLR), and summary receiver operating characteristic (SROC) curve were calculated. The post-test probability of AHF was calculated by using Bayes analysis. Results We enrolled a total of 15 studies involving 3, 309 patients. The value of sensitivity, specificity, PLR, NLR, DOR, area under the SROC curve, and Q* index was 85%, 91%, 8.94, 0.14, 67.24, 0.9587, and 0.9026, respectively. We detected significant heterogeneity among included studies, and therefore, all these results were analyzed under the random-effect model. We also explored possible sources of heterogeneity among the studies by using meta-regression analysis. Results suggest that the time interval between patient's admission to bedside TLS examination was closely related to TLS accuracy. Conclusion This meta-analysis demonstrated that detecting ULCs is a convenient bedside tool and has high accuracy for early AHF diagnosis in ED. TLS could be recommended to be applied for early diagnosis of AHF in ED.